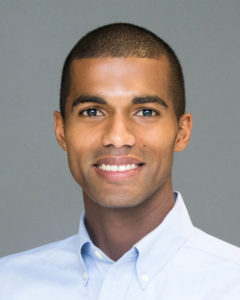 Ruben Sança is an Olympian from Cabo Verde who competed at the 2012 London Olympic Games in the 5,000 meters. Ruben was born in Cabo Verde and migrated with his family to the United States at age 12. He began his running career at the O'Bryant School of Math and Science in Boston. He then attended UMass Lowell, where he was a 4-time All American. At UMass Lowell, he lowered his personal bests every event and eventually broke the UMass Lowell 5k record. Ruben attributes his running success to his relentless passion for the sport of running and the changes in coaching and training environments, which provided him with more opportunities and greater challenges.
Ruben has represented Cabo Verde at several other distinguished international events, including the Lusophone Games in India and Portugal, the Francophony Games in France, the Ibero-American Games in Brazil and the I.A.A.F. World Championships in South Korea.
While not plugging in his 125-miles per week in training, Ruben balances a full time job at his alma mater UMass Lowell along with executive duties as the founder and owner of Lowell Running, LLC, a full service professional coaching firm specializing in individual and group training for runners. Ruben gives back to the community by engaging in student-athlete driven initiatives. Most recently, in 2018 Ruben founded The Sança Foundation, Inc, a non-profit youth organization with a focus on integrating sports, academics and life skills as driving forces to creating a positive and sustainable impact in Cabo Verde. Ruben has been inducted into the UMass Lowell Athletic Hall of Fame as well as the University Staff Wall of Honors. He serves as Vice President of the New England Intercollegiate Athletics Amateur Association, the second oldest track & field collegiate association in the United States. Ruben is also a member of the Boston Athletics Association steering committee in expanding access to running and walking in communities of color in Boston.
Through his exceptional leadership on and off the field, Ruben has been recognized by many affiliations for his accomplishments. Some of these affiliations include the Boston Red Sox, the International Olympic Committee (IOC), US Track & Field New England Association (USATF-NE), the National Collegiate Athletic Association (NCAA) and the US Track and Field and Cross Country Coaches Association (USTFCCCA). Ruben has also been featured by NBC Channel 7 News, Boston Herald, Boston Globe, NPR's Only a Game with Bill Littlefield, UMass Lowell Alumni Magazine, the Tracksmith Meter Magazine and several other media outlets.
Ruben has a Bachelor of Science degree in Business Administration with concentrations in Finance and Management and an M.B.A. along with a minor in economics from UMass Lowell. He holds MCPPO certifications in Supplies & Services Contracting and General Public Contracting from the Office of Massachusetts Inspector General. He is a Level 1 Certified coach by the U.S.A. Track & Field and is certified in First Aid, CPR ands AED by the American Health Care Academy.
Athletics Highlights
Olympic Games (2012)
Top 25 at Boston Marathon (2014, 2015)
World Marathon Majors (Boston 2014 & 2015, London 2016, Berlin 2018)
Top 50 I.A.A.F. World Championship Marathon (2011)
USATF-New England Grand Prix Champion (2014, 2017, 2018)
NCAA All American 5k, 10k, Cross Country